In the last decade, technology has massively changed the way we conduct our day to day lives. This includes the way we also do business. It is both faster, more efficient, and just plain simpler.
As much as this seems like a step up the production and operation of any company, others are still averse to technological updates in their systems and culture. There are proof of companies who took the initiative to adapt to these changes and have survived the transition.
There is overwhelming statistical evidence that Americans, (specifically Gen X and Millennial aged people) are technologically proficient across multiple devices and software platforms. Adoption of these same technologies within the appraisal work flow is a logical evolution of process.
Technology as a Force Multiplier is the Answer
Technology is quickly changing the commercial real estate business chain. Some professionals have embraced the benefits of new technology, such as brokers (who can now find and conduct deals remotely in real time), landlords (to manage properties and transact lease renewals in the cloud), and for investors (to raise funds, screen investments and navigate the purchase and finance process online). The appraisal profession has lagged this trend and is in desperate need of an upgrade if it is to maintain its credibility and usefulness.
The fear of complete automation by appraisers is largely unfounded. Articles such as 'The Impact of Emerging Technologies on the Surveying Profession, published by RICS' warn that within a decade, up to 90% of core tasks undertaken by real estate service firms could be done by technology. At the top of the list with the highest chance of automation, property valuation, condition assessments, risk management and market monitoring. That said the most effective technology based valuation tools in use today, are operated by humans, specifically skilled ones with specialized knowledge and a healthy dose of technology experience. ARGUS AE, CARS, ValueXpose, Enriched Data, etc. These platforms integrate data with functionality but still require a human being to insert logic and to drive a credible result.
While billions of dollars invested have improved everything from lease management to the ability to secure deal funding, the commercial valuation sector remains in the shadow. According to IBIS World, the commercial appraisal sector is a $4 billion-dollar a year industry. With a significant slice of the CRE pie, plus the uptick in technology applications across the sector, the property valuation business is ripe for the same innovation witnessed in other segments of the CRE world.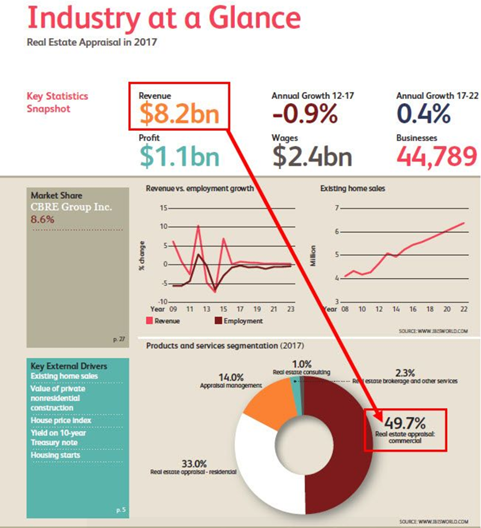 Conclusion
For any business to thrive in today's market and competition, one has to consider adapting and changing for the better. As an old proverb goes, "the wise adapt themselves to circumstances, as water molds itself to the pitcher."
You don't have to model your company around a new technology. This is where you can use creativity and practicality to make technology increase your property value and get you ready for what the future holds for you and your company.
There will be a lot of changes in the future and to be able to adapt and not be affected by it negatively, you have to have a good source of managed data. This will enable you to plan and make secure actions to develop your business. Enriched Data employs the CARS System which is a data gathering and filtering system that's directly linked to the national data. It ensures accurate and relevant data that can help you get ahead of your competition as well as safeguard your business. Discover how these services can make a difference and impact on your business today.